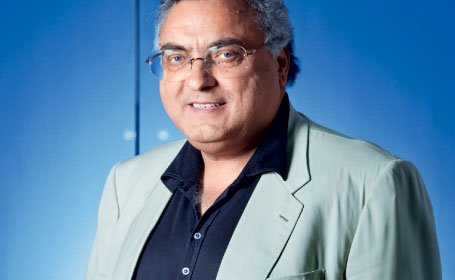 Dan Adamescu is, according to Top 300 Capital and Forbes 500 Billionaires, the richest Romanian with media businesses.
Romanian Capital and Forbes magazines are launching, on Monday, the Romanian millionaires' tops. Paginademedia.ro compared the tops with richest Romanians in media, spotting similarities and differences.

Both tops match when it comes of 4 richest Romanians in media: Adamescu family, Zoltan Teszari, Voiculescu family and Paunescu family, with estimated amounts being different from one top to another.
A few highlights:
Adamescu family , controlling Romania libera daily, has, according to Capital, a fortune estimated to $800 – 850M, with over Euro 100M more than Forbes estimates
The fortune of Zoltan Teszari, owner RCS&RDS, is evaluated by Capital to $750 – 800M, while Forbes evaluates it to half of that, $360 – 370M.
Voiculescu family in Forbes 500 is much poorer than in Top 300 Capital. The 1st top estimates family's fortune to Euro 120 – 125M, while 2nd ranking puts it up to Euro 600 – 650M.
Capital mentiones in the media rich people top Sorin Ovidiu Vintu, with a fortune of Euro 98-100M. The businessman is currently in prison, where he serves a 1 year sentence for blackmailing Sebastian Ghita.
Forbes 500 Billionaires is published, starting this year, by SC BP Publishing Media SRL.
Richest people in Media, according to Capital Top 300 and Forbes 500 Billionaires (Euro)
| | | | | |
| --- | --- | --- | --- | --- |
| Top 300 Capital | | | Forbes 500 Miliardari | |
| Name | Fortune | | Name | Fortune |
| Adamescu family | 800-850M | | Dan Grigore Adamescu | 700 – 730M |
| Zoltan Teszari | 750-800M | | Zoltan Teszari | 360 -370M |
| Camelia & Corina Voiculescu | 600-650M | | Voiculescu Family | 120 -125M |
| Paunescu Family | 400M | | Paunescu Family | 110 –120M |
| Ionut Negoita | 170 – 180M | | Sebastian Ghita | 95– 100M |
| Sebastian Ghita | 130M | | Adrian Sarbu | 90 - 95M |
| Adrian Sarbu | 110 - 120 M | | Cristian Burci | 65 –  70M |
| Sorin Ovidiu Vintu | 98-100M | | Elan Schwartzenberg | 30– 32M |
| Cristian Burci | 80-100 M | | Silviu Prigoana | 29– 31M |
| Anca Vlad | 82-84M | | | |
| Prigoana Family | 55-60M | | | |
| Arpad Paszkany | 50-51M | | | |
| Elan Schwartzenberg | 38-40M | | | |
| Mihaela Nicola | 23-25M | | | |
Who are the rich Romanians in media sector?
Adamescu family - Romania Libera daily newspaper is completely controlled by Adamescu family, that brought half of Medien Holding shares from German company Waz. Within family's fortune, the main property is Unirea Shopping Center, but also a mall in Brasov. The constructions company Baumeister, owned by the same family, made, in 2011, Euro 41.24M worth business, up from Euro 23.3M in the previous year. Adamescu family also owns Rex hotel, one of the best known on Romanian seaside

Zoltan Teszari - Teszari is absent from the public life and known personally only by a few of its employees. RDS&RCS, the company developed by the "invisible millionaire", provides telecom services in Romania, Spain, Czech Republic and Slovakia, Croatia and Servia, being one of the most powerful operators in the region.

Camelia & Corina Voiculescu – the two control Intact Media Group trust. Intact publishing house had losses of Euro 4M. The companies in Voiculescu family's portfolio had a cumulated turnover of Euro 114M, down 3M compared to previous year. Antena TV Group, operating Antena 1, Antena 2, Euforia TV and GSP TV, posted a slight increase of 1.5% of its turnover, to Euro 52.5M and posted Euro 1.5M profit, an increase of over 100%

Paunescu family - The recent launch of Solar Pictures on the US market generated curiosity from the American press, also due to the partners Bobby Paunescu managed to gather around his big passion, cinema. Mandragora Romania continues its independent author movie producer and is now in a stage of consolidating the brand, built in over 8 years

Ionut Negoita – Ring Media owner better this year on hobby and brought Cristi Borcea's shares in Dinamo football club for Euro 4M. His real estate business remains the most profitable: during last year, he sold 150 units in Confort City complex and estimates that, in the next year, he will also sell all the apartments in Rin Grand.

Sebastian Ghita – Although he sold all the shares he had in eMAG, Flanco, Asesoft Web and not only, Ghita remains one of the most influential business people in Romania. He kept his shares in Romania TV and intends to focus his future businesses towards electronic media

Sorin Ovidiu Vintu – Last year was the weakest from post-Revolution period for Vintu. Compared to his top period from 2007-2008, when he had a fortune of Euro 1.8BN, his fortune decreased 17-18 times, until close to Euro 100M

Cristian Burci – After he dropped his railway wagons business (companies from International Railway Systems), Burci brought, this autumn, Adevarul Holding from Dinu Patriciu.

Anca Vlad – is one of the most powerful businesswomen in Romania. The businesses of Catena farmacies network reached Euro 260M, with a profit of Euro 6M. Anca Vlad owns Farmacia Ta, Tonica, Slab sau Gras, Galenus health magazines and the online TV Senso TV.

Prigoana Family - from ETNO Folclor Media, company that has the licence for music channel ETNO TV, Silviu Prigoana got net incomes of RON 243,000 (@ Euro 57,000), representing "intellectual property rights", according to politician's fortune statement. The net profit for Prigoana's TV was of only Euro 512

Arpad Paszkany - Paszkany is one of the biggest real estate investors in Cluj, the patron of Romanian football champion team and owner of more local TV stations. His media businesses didn't work too well last year, with the only TV that posted profit being Somes TV. This year, the businessman launched Transilvania Live, in partnership with Ioan Rus and Vasile Dancu.

Elan Schwartzenberg – A year ago, Schwartzenberg was talking with enthusiasm about his most recent project: Realitatea TV. In July, the new owner was announcing the employees that they won't receive their salaries anymore. The next step was Schwartzenberg 's exit from media group's management. He still owns 9% of company's shares in present.

Mihaela Nicola – CEO of the communication group The Group, that includes 18 agencies specialized in creation, media, PR, production, marketing and events. Among the agencies, the most important is Media Investment. Cummulated, last year, The Group reached to Euro 111.9M turnover and Euro 5M profit.
Translation provided by AdHugger
Autor:

Petrişor Obae
petrisor.obaepaginademedia.ro