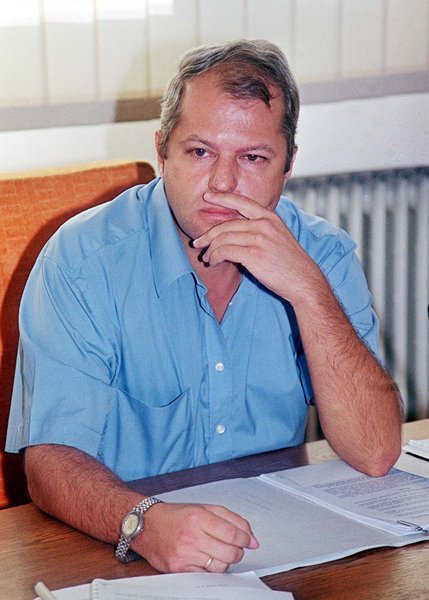 Rasvan Popescu, Maria Gubernat, Viorel Buda, Lorand Turos, Florin Gabrea and Laura Georgescu were validated as full members of CNA by Parliament's Culture Commisions, in Democratic Liberal Party absence.
The reunited commissions analized and ran hearings with people proposed to be part of Romanian National Audiovisual Council, as the mandates of 6 members reach to an end in December this year.
For the 6 places of full members were proposed 8 people:
Maria Monica Gubernat and Rasvan Popescu – full members (Gheorghe Balasoiu – suppleant member) for Social-Democratic Party
Ioan Onisei – full member (Marius Iurascu – deputy) from Democratic Liberal Party.
Viorel Vasile Buda – member (Nicoleta Nicolae – deputy member) from National Liberal Party.
Lorand Turos – member (Orsolya Eva Borsos – deputy) from UDMR.
Craciun Avram – member (Progresist Parliamentary Group),
Florin Gabrea – member (Mircea Valeriu Deaca – deputy) from Romanian Presidency
Laura Corina Georgescu – member (Alexandru Ion Giboi – deputy) from Romanian Executive.
Who are the 8 for CNA?
Rasvan Popescu acted, in the last 5 years, as CNA's president and, previous to that, was a journalist and spokesperson for the Romanian Government and Presidency
Maria Monica Gubernat – proposed by PSD as member in CNA – is advisor of PSD parliamentary group and, from this position, she worked with mass-media representatives. She was member in the commissions that established the air time for politicians during electroral campaign.
Ioan Onisei – proposed by PDL as member of CNA – is now vice-president of the National Audiovisual Council and, previous to that, was representative and member in Representatives Chamber's Culture Commision and Secretary of State in Culture Ministry
At its turn a CAN member, Lorand Turos worked previously in written and audiovisual Hungarian language press and for Romanian Radiocommunications Society
Viorel Vasile Buda –is representative in the Education Committee and, previous to that, he was the general education inspector for Satu Mare county.
Craciun Avram – was Arad's prefect for 6 years, than member of Parliament for 2 terms (2000 – 2004 and 2008 – 2012). In Parliament, he was part of various commissions, including Budget-Finances, Culture, Agriculture and, now, Common UNESCO and OSCE commission.
Florin Gabrea – studied architecture, is member of Romanian Writters Union and worked in TV for 5 years. He is the brother of the director Radu Gabrea and was the scriptwriter for some of his brother's movies
Laura Corina Georgescu – between 1992-2003, she and Felicia Melescanu set up the basis for TVR International. She also worked with Florin Calinescu on Pro TV's show "Chestiunea zilei". Starting 2003, she changed the side and started handling communication and mass media relations in central public administration. For 10 years, working for Romanian Government, she handled the communication with Anti-Fraud European Office in Bruxelles, made live broadcasts on Communication and European Funds
Why would PDL contest the vote at Constitutional Court
Even since the common session, PDL senator Radu F Alexandru asked for a recese for consultations, as, according to him, the proposal list included names that weren't previously negotiated in Parliament's permanent bureaus. His proposal was rejected with the vote of all members of the Comissions. Moreover, the commissions voted with close doors and in PDL's absence the members that are be part of CNA.
The result of the vote wasn't unveiled at the end of the session, but the members in Commissions said Parliament will decide who the 6 new full members of CNA are.
Culture Comissions rejected Ioan Onisei and Craciun Avram
Following the vote, Ioan Onisei – PDL's proposal, and Craciun Avram were rejected as possible new members of CNA.
According to Radu F Alexandru, there were supposed to be 6 proposals on the list, not 8, with PSD coming up with 2 proposals when the agreement was that each political group in Parliament will have the right to make 1 proposal.
In what concerns Rasvan Popescu, Alexandru says Popescu knew he will be PNL's proposal, not PSD's.
Alexandru also thinks that, through the situation created, some try to break CNA's componence balance and thinks that, in a way, it's an exact repeat of the situation from the State TV's Management Board.
"Back than, PDL's representatives were completely eliminated, now there is a try to completely unbalance the componence of CNA, an institution that has to deal with high expectations and that is, de facto, practically paralyzed by the political partisanship of some people that are there to represent the interests of the ones that proposed them and not to protect the correct functioning of media within the public space", Alexandru said.
Context Info
The 6 CNA members that end their mandates in December are Rasvan Popescu,Ioan Onisei, Gelu Trandafir, Valeriu Mircea Deaca, Constantin Dutu and Lorand Turos.
Besides them, CNA also has as members Narcisa Iorga, Cristina Trepcea, Christian Mititelu, Mihai Malaimare and Valentin-Alexandru Jucan, with mandates to expire either in 2014 or 2018.
Iorga, Trepcea, Mititelu and Malaimare were validated as members in CNA in October2008, while Valentin-Alexandru Jucan was appointed within CNA in February 2012.
CNA members: appointment and attributions:
According to art. 11 from Romanian Audiovisual Law, CNA has 11 members appointed by Parliament, with proposals coming from Senate (3 members), Representatives Chamber (3), Romanian Presidency (2) and Romanian Executive (3).
Proposals are nominating the people that will be full members and also the ones that will act as suppleants and are presented to the permanent bureaus of the 2 Parliament's Chambers, within 15 days from the start of nomination procedure.
The permanent bureaus from the 2 Chambers are presenting the proposal to permanent specialized committess, that are hearing the candidates during a common session. Following hearings, the permanent committees make a common decision they present in Parliament's common session.
The candidates are approved with the vote of the majority of present representatives and senators, with the condition the session would meet the needed cvorum to vote.
The Council's members are serving the public interest and do not represent the authority that proposed them. A mandate's duration is 6 years, with members being replaced when their mandate ends. If one of Council's places becomes free before the mandate expires, than it will be occupied by the suppleant member until the 6 year mandate's duration expires.
CNA's members are public dignitaries assimilated to the function of State Secretary, according to the law.
Translation provided by AdHugger
Autor:

Petrişor Obae
petrisor.obaepaginademedia.ro