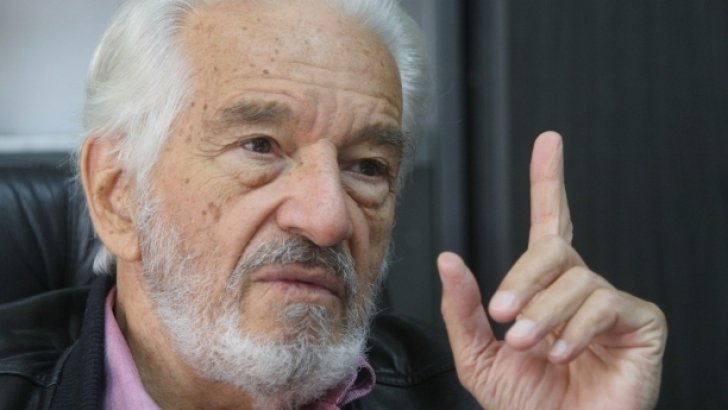 Sergiu Nicolaescu's death caught by surprise Romanian mass-media and started a whole media circus full of comments with no informational base, unjustified live interventions, live interventions from people more or less tied to the subject and unrealistic CVs. In its war for audiences, mass-media even invented an illegit son for the dead director.
Knowing how personalities' funeral turn in Romanian media, the widow sent to all mass-media a document in which she demanded TVs to treat "with decency and the due respect" director's death and forbade broadcasting images from the funeral.
"I forbid you to publish/distribute materials in written / audiovisual press and internet, respectively photos, audio/video content from my husband's funeral. I underline that these things are related with my personal, intimate and family life, in a dramatic moment of my life", Dana Nicolaescu wrote.
Romanian director's express wish was to be incinerated therefor there was no classic funeral.
Realitatea TV and Digi 24 – the only TVs that respected family's wishes and had no images from funerals.
Realitatea TV and Digi 24 were the only Romanian TVs that respected Nicolaescu's family wishes and didn't broadcast images from the funeral, stopping when the funeral cortege left for the crematorium.
Antena 3, RTV and B1 TV kept broadcasting images and, as the press wasn't allowed inside the crematorium, the public was exposed to outside images that didn't missed yells and screams or tabloid titles on crawlers.
The fact that Nicolaescu chose to be incinerated and not buried was also a theme for heated debates on TVs.
With no images of the deceased one to run, Romanian press invented an illegit son.
As director's widow forbade any broadcasts related to Nicolaescu's dead body, Romanian press came up with a "back-up" solution: invented an illegit son that was demanding, in some fabricated documents submitted to a Romanian court, to stop the incineration and to make the necessary actions for his paternity to be recognized.
The documents, later proven to be fakes, were signed by a person identified as Vasile Rotaru, used a fake address and were submitted to District 1 Court in Bucharest after the program was over, reason why they weren't registered at that moment.
Friday, less than 25 minutes since the documents were sent to the Court, Romania TV opened with this news at 18.55 and announce it had in its possession "incendiary documents". Antena 3 took over the subject at 19.42.
A few days later, on Monday, it was proven that the name and personal identification code used in the documents is the one of a former sports journalist. The journalist denied submitting the documents to the instance and claimed his personal data was abused of by unknown people. Rotaru was a Sports journalist at Realitatea TV. The entire employee archive from Realitatea TV is, since 2011, in Romania TV's possession.
Vasile Rotaru also said, in a show at Antena 3, that he didn't know by the documents until he was called by a reporter. He refused to make any statements, went to the instance to verify the documents and demanded in written for the processes to be suspended. He also notified the police and tell the authorities everything that happened.
The mass media fake also attracted prosecutor's attention, with the prosecutors starting an investigation and a criminal cause related to the misuse of personal identification data. At its turn, the police is also running an investigation.
Mass-media race for sensational makes victims kindergarden kids
Dana Nicolaescu, wife of deceased director, was constanly in mass-media's attention related to her husbands funerals. Romania TV went even further and broadcasted images from a kindergarden where she is associate, an action that infuriated the parents that have kids attending the institution.
As a consequence, the parents sent an open letter to journalists, civil society and authorities, demanding Romania TV to "give up media guerilla inside kindergardens". They consider intolerable journalist's
presence inside the institution without permission.
Translation provided by AdHugger.
Autor:

Carmen Maria Andronache
carmenpaginademedia.ro