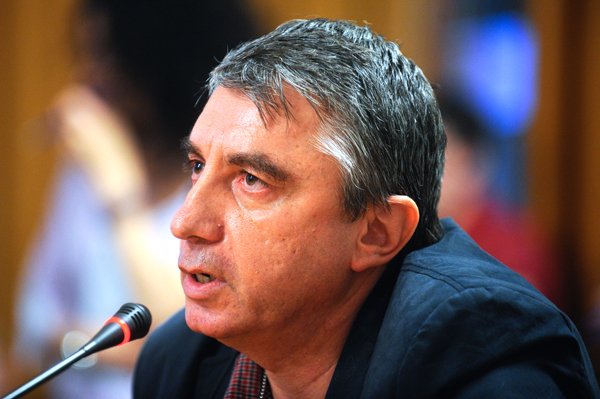 Alexandru Lazescu, TVR president between 2010-2012, believes an increase of the TV tax is needed, but not under any conditions. "It mustn't be done in an ordinary manner"

"There are 2 separate discussions. Obviously TVR needed a rethinking of the tax.
Anyways, the situation is so hard that, without it, there is no solution. Something must be found. There is only 2 solutions: either someone forgives the debts, to the state or somewhere else, or you come with an increase of revenues that can come from this area. It is delicate like market's phychology, even among peers, but I always said something like this is needed", Alexandru Lazescu said, for paginademedia.ro.
The discussion comes as Stelian Tanase, the actual ad interim director of TVR, sent to Finance Ministry a project of increasing the TV tax. At the moment, TV tax is RON 4 per month and represents the main source of revenue for TVR.
In order for a tax increase to be a correct decision, the increase must have behind it 2 things: a vision on what public TV wants to be and a change of the legal frame.
"I think one needs to redefine the vision and change the legal frame. When you change every one year and something, maximum two, the Management Board, they bring all their own people. Even the late Steve Jobs can come, we don't stand a chance. When BBC management changes, it is announced 6 months before, here the change is just operated", explained the former TVR chief.
How much should the TV tax go up to? "We made back than some estimates and we reached somewhere to RON 6. You must be a hypocrite to say the amount is big, two more RON doesn't mean too much. It is a principle here", Lazescu said.
Ioana Avadani: Increasing TV tax must be doubled by a transparentization of the way budgets are used
Ioana Avadani, director Romanian Center for Independent Journalist, also agrees with the increase of the TV tax. "I find it not just opportune, but lso needed, and we know the arguments for many years", Avadani said.
"The tax wasn't increased since 2003. There are 10 years during which the costs kept increasing. The problem is that the simple increase of the tax isn't enough at this time. It needs to be doubled by a transparentization of the way TV's budgets are used", Ioana Avadani explained, for paginademedia.ro.
"When you ask people to give you money, you have to give something in exchange. You cannot give them immediately quality of production, because this is something to be seen in time. You can't offer them credibility immediately either, because, for the moment, you don't have a management board, you have a lot of political intervention and so on. What you can offer to the people and doesn't cost you anything is transparency. Such a measure must be doubled by the transparentization of the way TV's budgets are spent, the money that come from the TV tax", CJI director added.
On another hand, Ioana Avadani considers that a tax increase shouldn't come from an ad interim chief. "Personally, I don't think an ad interim chief is the best placed person in order to take such a measure. He is a director, not a president, so he can't do strategy, he only manages resources and is ad interim, and his mandate is limited to 6 months. Such a measure must be taken by a management board that also assumes a development strategy, a plan, objectives, transparentization for the entire process and assume responsibility in these matters", she added.
The increase of the TV tax from Ron 4 to Ron 6-8 is also supported by Georgica Severin, Social democrat senator and president of Senate's Culture Committee. Still, Severin said that it's his personal opinion and not a position to engage the Government, as Mediafax writes.
Sevrin also said that TV tax in Romania is RON 4 while, in Serbia – that isn't an EU member – the tax is almost 10 times higher, while in the rest of the countries the tax is between Euro 10-15 and Euro 30 per month
Translation provided by AdHugger
Autor:

Carmen Maria Andronache
carmenpaginademedia.ro