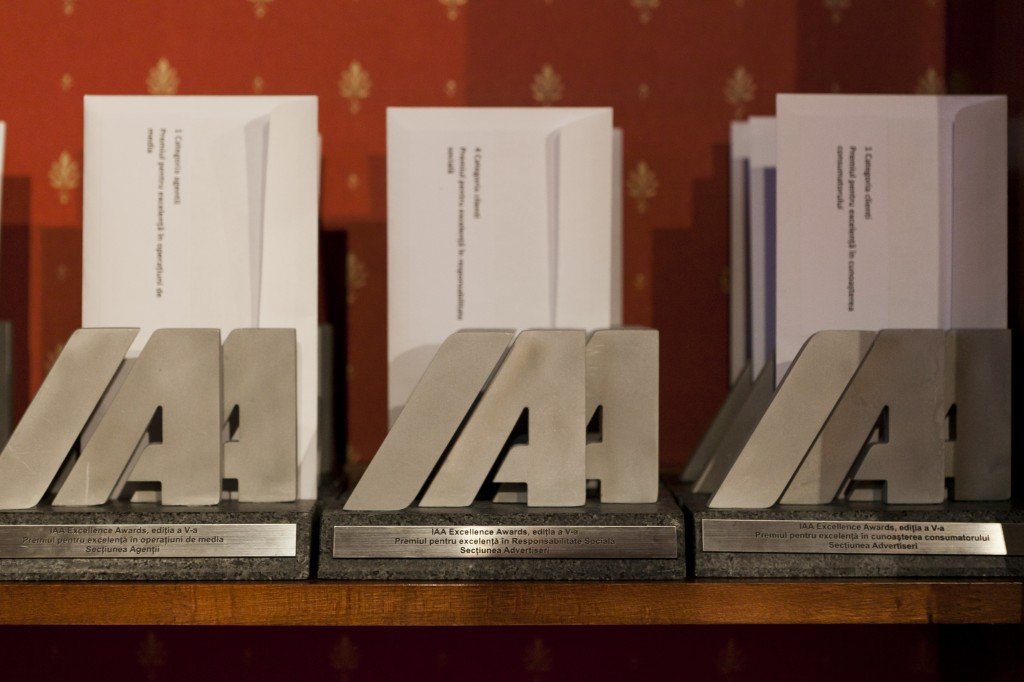 IAA Romania awarded its accolades during the IAA Excellence Awards 2012, a gala that took place on Tuesday evening at Cesianu-Racovita Palace. During the event, the Personality of the Year in Marketing and Communication was designated Maria Tudor, Managing Director Zenith Media Romania.
Personality of the Year was chosen live, from the 19 winners of this year's accolades, by the people present at the event.
Clients received 5 trophies:
• Excellence in knowing the consumers: Andrei Musetescu – Fondator & General Manager CSOP
• Excellence in Brand Management: Gabriela Galatanu – Group BM Ciuc & Silva Heineken
• Excellence in Public Relations: Ecaterina Safarica – Communications Associate Director Balkans, Turkey, Israel, Caucasus and Central Asia Republics
• Excellence in CSR: Mona Nicolici – CSR Director Petrom and Raluca Kisescu – Avon Cosmetics
• Excellence in Marketing: Panos Makris – Commercial Director Cosmote Romania
To Agencies, the following accolades were awarded:
• Excellence in Media Operations: Maria Tudor – Managing Director Zenith Media
• Excellence in Public Relations: Ioana Manoiu – General Manager GMP PR and Gabriela Lungu – General Manager & Creative Director The Practice
• Excellence in Digital Communication: Costin Radu – Managing Partner The Geeks
• Excellence in Client Service: Oana Cociasu – Managing Partner Lowe Medic One
• Excellence in Social Responsibility: Sorin Tranca – President Friends for Friends Foundation
• Excellence in Advertising Creativity: Adrian Botan – VP Creative Excellence CEE, McCann Worldgroup
Media got 4 prizes during the gala:
• Excellence in Printed Press: Cristian Hosciuc – journalist, Editorial Director Ziarul Financiar & Business Magazin
• Excellence in Radio Production: Nadia Tataru - General Manager Itsy Bitsy, Mihai Dobrovolschi & Vlad Craioveanu – producers Radio Guerrilla;
• Excellence in Online Publications: Orlando Nicoara - CEO Mediafax Group
• Excellence in TV Production: Mona Segall - General Producer ProTV
IAA Excellence Awards also gave a number of special prizes:
• Excellence for Young Professional of the Year: Sebastian Olar, Copywriter McCann Erickson
• Excellence for Marketing and Communication Education: Eusediu Margasoiu & Cristina Gheorghe – consultants, The Network
• Excellence for CSR outside the industry: Dr. Pavel Chirila
• Excellence award for a personality outside the industry: Neagu Djuvara
For IAA Excellence Awards there were 88 nominations, that were sent to IAA Romania between November 1-19. The submitted nominations were analyzed and evaluated by 3 distinct judging committees: IAA Management Board, IAA Senate and a board including personalities awarded at previous editions of IAA Excellence Awards.
Translation provided by AdHugger
Autor:

Petrişor Obae
petrisor.obaepaginademedia.ro