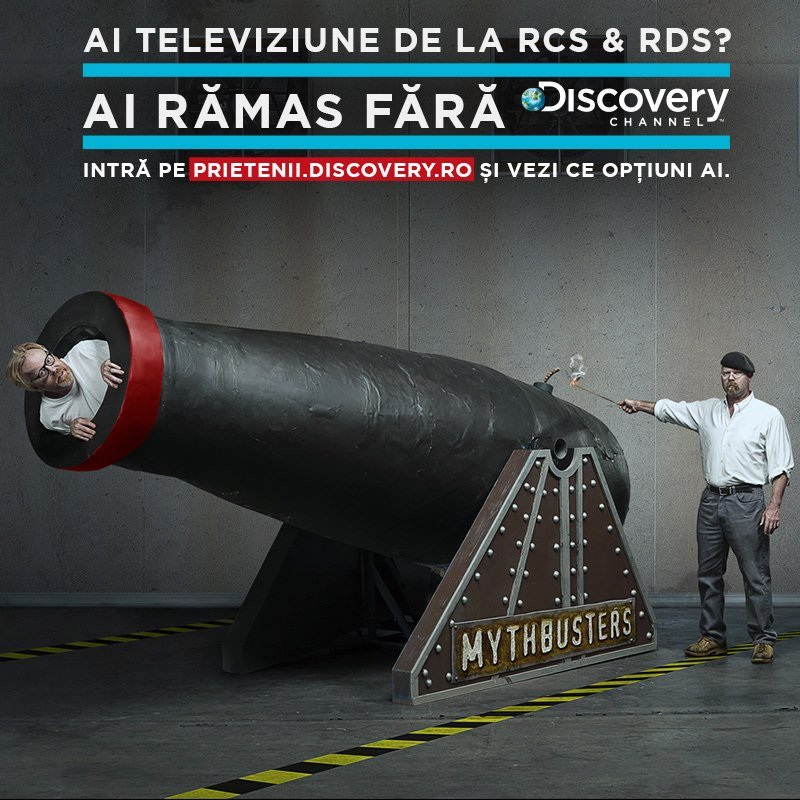 The bantering between RCS&RDS and Discovery continued this week too, with RCS&RDS accusing the TV network of having prices 3 times higher than similarTVs and removing Discovery channels from cable too, starting December 1st .
Starting December 1st, Discovery Channel was removed also from the cable network owned by RCS&RDS and replaced by BBC Entertainment. According to RDS officials, the company asked CNA the removal from the program offer for Discovery Channel and to replace it with BBC Entertainment.
RCS&RDS representatives said that the small audience (around 1% according to them) is to blame for removing Discovery Channel from Digi programs and the cable offer. They blame Discovery that the prices demanded, not only for Romania, increased during years, "no matter the economic crisis or exchange rates" and say Discovery refused to create a separate package with all its channels to be acquired separately by subscribers.
According to Mediafax, Discovery Channel lost almost 50% of the TV distribution market in Romania once with it being removed from digital and cable networks of RCS&RDS.
Online petition and Facebook comments to get Discovery back
The removal of Discovery Channel from RCS&RDS Digi (DTH) offer determined the general public and known personalities to react. An online petition – "We want Discovery on RCS&RDS" – gathered 3,700 signatures in just 48 hours days and reached to 11,000 signatures in just 3 days.
Also, Romanian personalities like Oana Pellea (actress), Ioana Avadani (Romanian Center for Independent Journalism) and Vlad Petreanu (journalist and blogger) also reacted on RCS&RDS Facebook page. The removal of Discovery generated over 700 comments of cable company's Facebook page.
Mark Hollinger, Discovery: We are indignant with what happens"
Mark Hollinger, president and CEO Discovery Networks, sent an open letter to RCS&RDS subscribers, mentioning company being indignant with what happens.
"With a dominant position on the market, if RCS&RDS will continue to remove channels such Discovery is, in the end, the viewers will end up with very few options in what concerns quality productions, like the ones we offered you, day by day, during the last 15 years", the letter mentions.
"We are indignant with what happens, reason why we started discussions with Romanian and European Union authorities", Hollinger mentions, adding "there is the risk for viewers to be caught in contracts for high prices, for services they do not want or they have no control over".
The letter reiterates the fact that Discovery offered RCS&RDS smaller tariffs exactly "to prevent their preoccupation on shifting economic conditions in Romania and their position on the market. In spite of that, they didn't consider necessary to come back to negotiations table
Discovery: RCS rejected all our commercial offers
Discovery officials stated that RCS rejected all the commercial offers they made, so a new agreement couldn't be reached. "We want to mention that we didn't ask, ever during the negotiations, the increasing of tarrifs to distribute our channels", they mentioned.
Among the Discovery channels removed from RCS&RDS programs are Discovery Channel, Discovery World and, from some program packages, also TLC and Animal Planet.
On November 28th, Discovery announced they keep negotiating with RCS&RDS and that they came up with a competitive offer, at a reasonable price. Discovery's officials mentioned also that Discovery Channel is the most watched documentary channel in Romania, with 16,000 people signing the petition to have it back.
An official statement from Discovery mentions that, this year, Discovery Channel was watched by at least 11M Romanians a month (according to Kantar Media Audiences, target ind 4+). Moreover, a separate study made by Discovery Networks and GfK in 2011 was showing that 89% from RCS&RDS subscribers in Romania were saying that Discovery Channel is their favorite channel.
Competition seizes the opportunity: UPC adds new Discovery channels in its programs offer
In the middle of the RCS&RDS – Discovery scandal, UPC, another Romanian cable provider, announced, on its Facebook page that will add to its programs offer, starting December 1st, 2 Discovery channels: Discovery ID and Animal Planet HD.
"Starting December, we iffer you the most expanded offer of documentaries channels – 20 channels (we also have all the 8 channels from Discovery Networks)", the announcement says.
Translation provided by AdHugger
Autor:

Petrişor Obae
petrisor.obaepaginademedia.ro