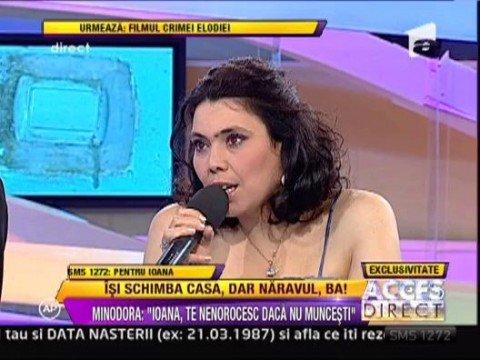 Antena 1 was fined Ron 20,000 for February 4th edition of Acces Direct show, during which Ioana Tufaru was humiliated. CNA also voted on 2 other possible sanctions - stop TV's broadcasts for 3 hours and a fine of RON 100,000 – but those proposals didn't get the necessary number of votes.
CNA decided to discuss the subject presented on Acces Direct where Ioana Tufaru's hygiene was discussed after it received 120 claims related to it.
Ioana Tufaru – under contract with Antena Group for her presence on TV shows
According to Ionescu, Ioana Tufaru and Antena Group have a contract for her being present in TVs shows. The contract was signed on February 4th (the day the station presented the humiliating images) and lasts until February 28th.
Ionescu explained the contractual relation started in 2012's winter; each contract has an annexa that Tufaru signs when she agrees with what is broadcasted during the show.
"There is no secret that we are developing a scenario. We have a story that started last year. Ioana Tufaru came towards us as a character that was built on another TV station and we decided to make a story inspired 80% from her real life. She accepted to play this character because she's a desinhibit person and the contract with us is one of her income sources. We don't make a secret out of it. Even herself said that, in a way, her dream is to become an actress", Cristian Ionescu, manager of the redaction that handles "Acces Direct"and "Un show păcătos", said to CNA members, referring at Acces Direct's edition from February 4th.
Ionescu admits the story impacted in areas the station didn't anticipate and also mentioned that "someone saw in this story an opportunity to attack our advertising clients. To make some associations somehow forced"
Message with Ioana Tufaru, presented to CNA
Antena's representatives presented to CNA a recording containing a message from Ioana Tufaru in which she admits her presence in Antena 1's show are staged.
Ioana Tufaru:
"What people don't know is that, with my appearances on Antena 1, I am playing a role. The scenario is made in advance. All my presences were based on a script. It is a scenario from my life.

I knew in advance what would happen. I knew that after that reportage from Acces Direct we were scheduled to go to a beauty saloon to make nicer things. (…)

It really was a tough scenario, but we thought to make both nice and ugly things."
Tufaru also said she doesn't regret anything except "people might think I'm crazy", without knowing she plays a role. Even if she would go back in time, she still thinks she will make that recording again and mentioned: "I do these things consciently. I believe I am an actress in those moments"
What were the opinions of CNA members?
Christian Mititelu didn't agreed viewing the recording with Ioana Tufaru saying "I don't see the relevance of a person, that also have a contractual tie, to justify what we saw here"
Florin Gabrea, previous seeing the recording with Tufaru, demanded Ionescu to show him where the woman "signed the following clause: I, Ioana Tufaru, agree to participate to this show so people can check me out between my legs or in my ears (…) You didn't ever asked yourself why she agrees to do anything? Who are you to mock this person. If you would have told her to lick the floors, she would've done it. Do you have a conscience problem or not? Where did we get to?
Later on, he noticed that Ioana demanded the reporter to be left alone when she was given the ear stick and also when she was asked to pull up her skirt.
Narcisa Iorga considers that the show grosses out the public and also induces it in error by presenting a scenario as reality. She also added that she has "no guarantee that the recording with Tufaru presented to CNA wasn't paid"
Cristina Trepcea: "It seems to me also that, by presenting us this recording, you gave us the best argument that you are lying to the public (…) I think you should choose the mistake you accept to do. In any situation, there is something unfair".
Vasile Buda: "Those images saddened me very much and convinced me that this is a damaging show. It damages to the public, to the people, and so to Ioana Tufaru. Because it shows how a humab being can treat another one at a max audience hour. It's incredible for me. (…) I don't think this kind of shows should be tolerated by CNA. (…) I believed this woman has problems. I saw she doesn't. In exchange, you induced us in error – the public, us, me".
Răsvan Popescu: "We faced those reality shows before. The station has the obligation to inform the public on what really happened. Maybe even to broadcast this recording".
Monica Gubernat wanted to know why Simona Gherghe cried in her show if it was a material based on a script and appreciated that kind of reaction is immediate, they don't follow the second day. Ionescu said she cried because a person was involved and because she was affected by the way the things turned out.
Lorand Turos: This recording with Tufaru leaves the impression that it is a fiction.
Laura Georgescu, CNA president, said, in the end of the discussion with Antena's representatives: "This is the last time when I am watching thins kind of show and we sit and discuss such a product".
Translation provided by AdHugger
Autor:

Carmen Maria Andronache
carmenpaginademedia.ro