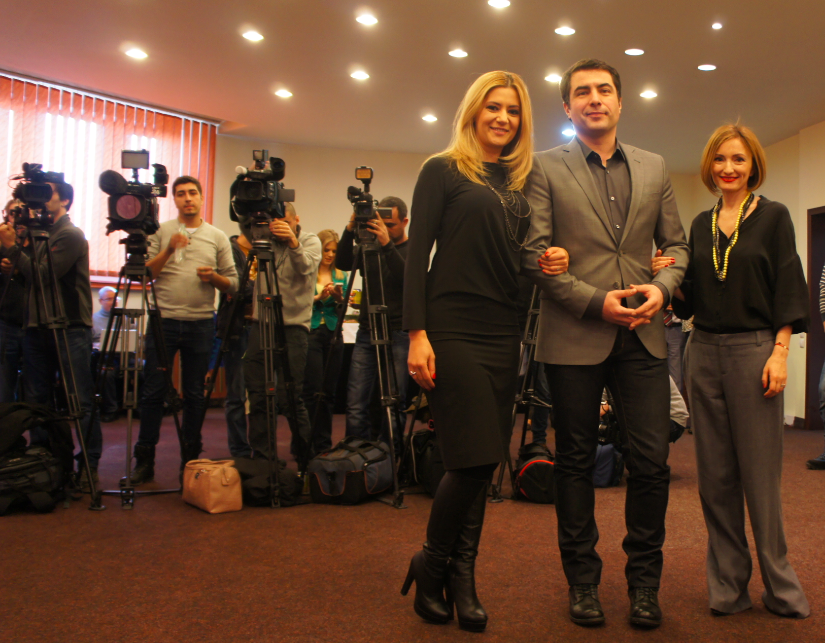 At CNA Awards, Teo Trandafir received the trophy for the best comeback, Itsy Bitsy Radio got accolades for best programs for kids, Moise Guran was awarded as best business journalist, while Antena 3 and Radio Zu were recompensated for the best social campaigns.
The awards were organized at CNA's 21st anniversary.
Laura Georgescu, president CNA: "Awards for excellence products. (…) Yes, we give you honorific prizes, not money, CNA's budget is just RON 8M. Those are professional and public recognition awards. CNA celebrates today the American maturity, 21 years old".
At the Awards Gala during which trophies and excellence diplomas were awarded, only 6 out of the 11 CNA members participated: Laura Georgescu (president CNA), Rasvan Popescu, Cristina Trepcea, Christian Mititelu, Lorand Turos and Monica Gubernat.
The winners list at CNA Awards:
Viewer's prize: Razvan Moisa (9 y.o.) from Targoviste
Award for debut in TV and Radio:
Teo Trandafir (Kanal D)
Dr. Bogdan Ivanescu (for Dr. MIT show on Romania TV)
Viva FM, Monica Prisăcaru
Children's programs:
Journal for kids (Digi 24) – Miruna (9 y.o.)
Radio Itsy Bitsy – Nadia Tataru
Award for Romanian language:
Litoral TV – Ramona Mures (excellence diploma) - school tutoring show
National FM
Stand-up Comedy category: Look TV – Nicu Bendea
Programs to promote the integration of minorities and other social categories:
Adriana Stoicescu, 'Condamnatii" show – B1TV
Radio Romania Actualităţi – Nicolae Popescu (redactor-sef Radio Romania Actualitati)
Informative shows on nature and animals:
PV TV (Pescuit si Vanatoare TV)
Europa FM
Award for cultural shows:
Realitatea TV – Costi Rogozanu (Bookface)
Radio Trinitas – Ciprian Olinici – for managing to bring Church in people's homes
Business category:
Moise Guran (TVR 1 -Biziday)
RFI (Radio France Internationale)
Social campaigns award:
Antena 3/ Antena 1 (Anca Rusu – Intact's "Romanians, good Europeans"
Radio ZU – Buzdugan and Morar
Audience:
"Romania, te iubesc!", Stirile Pro TV
Kiss FM
The criteria the awards were given were servicing the public interest, respect for the legislation and audience. The proposals were made by CNA personel (inspectors in the country and Bucharest and CNAN members), as Laura Georgescu said.
The awards were offered at CNA's president initiative, with the event targeting licensed broadcasters in Romania.
After the awards were offered, Narcisa Iorga, CNA member, said that she doesn't recognize the awards "offered by a few colleagues united by same simpaties and private interests".
Narcisa Iorga, for Paginademedia.ro:
"I found out reading paginademedia.ro that there were present another 5 members together with the 'beloved leader' and neither I , Valentin Jucan or Florin Gabrea were involved or invited to this event".
Before the event, Georgescu stated that the other CNA members were consulted in relation with the awards and admitted that one of them, Valentin Jucan, was against.
The awards generated discussion within CNA, with 2 members, Narcisa Iorga and Florin Gabrea, saying that they weren't informed or consulted in relation to the prizes.
Translation provided by AdHugger
Autor:

Carmen Maria Andronache
carmenpaginademedia.ro